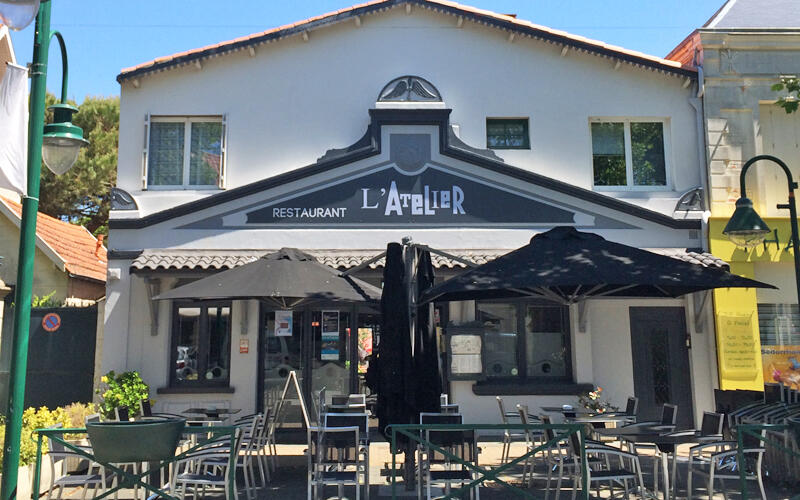 L'Atelier
Restaurant,
Traditional French cooking,
Traditional cooking
in Châtelaillon-Plage
This restaurant, offering traditional, high-quality cuisine, is ideally located in the heart of the city, opposite the town hall. In summer, you'll be happy to sit out on the terrace or patio, while in winter you can head indoors.

Several suggestions are offered. You can choose between a salad, fish or meat. At l'atelier, our cuisine is homemade and prepared with fresh produce. Some dishes, like the Thai-style seafood casserole, will take you on a voyage of discovery. Others will surprise you, such as sauerkraut from the sea. You'll also find traditional dishes such as brioche French toast with salted butter caramel. The menu changes with the seasons, and the Atelier team is always ready to welcome you.
Environment

Close to a public transportation

Bus stop < 500 m

In centre of town

Town location

Beach within 300 m

Spoken languages
Monday

12:00 PM - 2:00 PM

7:00 PM - 9:00 PM

Tuesday

12:00 PM - 2:00 PM

7:00 PM - 9:00 PM

Thursday

7:00 PM - 9:00 PM

Friday

12:00 PM - 2:00 PM

7:00 PM - 9:00 PM

Saturday

12:00 PM - 2:00 PM

7:00 PM - 9:00 PM

Sunday

12:00 PM - 2:00 PM

7:00 PM - 9:00 PM